Dallas
City in Texas, USA
Dallas is a millionaire city in northern Texas.
Dallas
state
Texas
resident
height

131 m

no tourist information on Wikidata:
location

Dallas
background
Dallas was founded in 1841 and obtained the city's right in 1856, but was only a small town of minor importance. In the 1870's, the city fathers, through cash payments and privileges, encouraged both the Houston and Central Texas Railroad and the Texas and Pacific Railroad to move their railways through Dallas. Dallas became an important hub and a hub for goods of all kinds. Later, industry, banks and insurance companies settled in.
The 15-story Praetorian Building was built here in 1905-09 to build the first tower in the west of the USA (west of the Mississippi) (it was demolished in 2013). In the 1910s, the population exceeded the 100,000 mark. Between 1910 and 1930, Dallas experienced a first flowering and a construction boom. Many historic buildings in the city center, which are now listed as historical monuments, were built during this period. The architect George Dahl shaped the city of Dallas like no other - from 1927 to 1971 he designed many important buildings, and he developed stylistically from the historical Neo-Renaissance to the art of deco to international modernity. The world-renowned criminal couple Bonnie Parker and Clyde Barrow, who was in the US in the early 1930s, came from Dallas and was buried here.
In the 1950's, the city experienced a renewed population boom, exceeding a half-million inhabitants. Texas Instruments, a world-leading electronics manufacturer in the 20th century, was founded in Dallas and has its headquarters here. In 1958, the first integrated circuit (microchip) was produced, laying a foundation for the development of the microprocessor and thus for the digital revolution. On November 22, 1963, the world's attention was focused on Dallas when the American president John F. Kennedy was murdered.
In 1978, the soap opera Dallas began to broadcast a rich and intriguing family of oil companies, which ran for 14 seasons until 1991 and became one of the most watched TV series ever. In the 1970s and especially in the 1980s many skyscrapers were erected, which today shape the city silhouette. One of the companies created in 1982 by the break-up of the telecommunications operator, Southwestern Bell, was based in Dallas. It grew into AT&T in the 1990s and 2000s, the world's largest telecommunications operator. In 1989, the Exxon oil company (now ExxonMobil) moved its headquarters to Irving, a north-western suburb of Dallas. In 1990 Dallas became a city of millions. The Dallas Mavericks basketball team has been one of the most successful teams in the NBA since the 2000s and is known in Germany mainly for its long-time player Dirk Nowitzki.
The population of Dallas (2010: 1.2 million), according to census data, 42% are Hispanics, 29% are non-Hispanic whites, 25% are African-Americans and 3% are Asians. With Fort Worth, a sister city located 50 kilometers west, Dallas forms a large metroplex with a population of about 7 million.
arrival
By plane
the 32,89683-97,038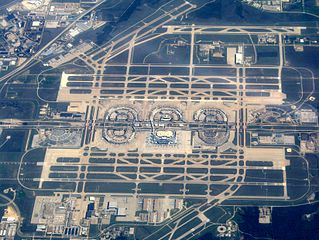 3 Dallas-Forth Worth Airport         (IATA: DFW) is one of the largest in the world. Direct flights are available from Frankfurt am Main and Munich, for example. In addition, DFW is the hub of American Airlines and American Eagle airlines, which fly here from almost every airport in the US. Near the airport, there is a Trinity Railway Express train station that runs to Dallas city center at least every hour (journey time of 30 minutes, ticket of $2.50). Alternatively, you can take the DART Orange Line (city railway) directly from the airport terminal A to the city center. It takes about 50 minutes.
The older and smaller 32,84722-96,85167
2 Dallas Love Airport       (IATA: DAL) is closer to the city center. It is mainly used by Southwest Airlines and Virgin America. The orange and green lines of the DART Light Rail stop at this. It takes 10-15 minutes to reach the city center.
by train
An der Dallas 32,776111-96,8075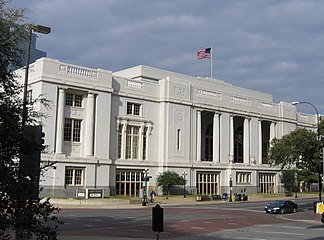 3 Union Station       (a neoclassical building dating from 1916), the Amtrak line Texas Eagle from Chicago (journey time of 22 hours), St. Louis (15½ hours), Little Rock (8:20 hours), San Antonio (7½ hours) and Austin (5 hours). Three times a week there is also a connection from Los Angeles (39 hours), Tucson (29 hours) and El Paso (23 hours). Early booking is strongly recommended, as tickets without saving are extremely expensive.
Between Dallas and Fort Worth, the commuter train Trinity Railway Express (TRE) runs every hour (in the morning and half an hour in the afternoon). The journey takes about an hour and costs $5.
By bus
The 32.778374-96.8044194Greyhound bus station is located on South Lamar Street in the West End Historic District, west of Downtown. There is also a stop at the Westmoreland station. Greyound offers numerous connections from places inside and outside Texas.
Megabus buses stop at 32.784295-96.793475 5 DART East Tranfer Center . The network provides connections from Chicago, St. Louis, Memphis, Little Rock, Houston, Austin and San Antonio.
On the street
By ship
mobility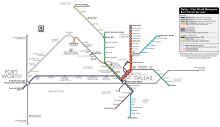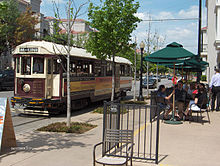 Dallas has a well-developed public transport system called DART (Dallas Area Rapid Transit). There is a tramway network (DART Light Rail) with four lines marked in different colors with a total length of 150 kilometers. There is also a 4-kilometer tramway between the main train station and the southwestern Oak Cliff district, and the 7.5 kilometer-long M-Line with historic trams along McKinney Avenue in the Uptown district, as well as the Museum Quarter in the north-eastern city center. DART also operates more than 100 bus lines.
A day ticket for all DART means of transport in the city area costs $5, a two-hour ticket costs $2.50, and the surrounding area costs twice.
sights
structures
Historical buildings

Historical buildings
1

Wilson Building,

1623 Main Street

(

Bus 205, 278, 722 Main & Ervay

).

Historical business building, built in 1902-04.

The design is inspired by the architecture of the French Second Empire with ornamental details reminiscent of the Opera Garnier in Paris.

Originally, the Titche-Göttinger department store, after which the building housed a low-priced household goods market until 1997.

After it was empty, it was extensively rebuilt as part of an urban development project, now it is home to loft apartments.
2

Neiman Marcus Building,

1618 Main Street

(

opposite Wilson Building

).

Historical business building from 1914 in the Neo-Renaissance style.

Story of the Nobel store chain Neiman Marcus.
3

The Adolphus Hotel,

1321 Commerce Street

(

bus (numerous lines) "Commerce & Field" or DART Light Rail (all lines) "Akard Station"

).

Impressive 22-story Nobel hotel built in 1912 in the Beaux-Arts style.

For a long time it was the most prestigious hotel in the city and until the completion of the Magnolia Building it was also the highest building in Dallas.

It is now listed as a historical monument, but it is still used as a four star hotel with 422 rooms.

On the 19th floor, the spirit of a bride, abandoned by her bridegroom before the wedding.
4

Majestic Theater,

1925 Elm Street

(

bus (numerous lines) "Elm & Harwood" or DART Light Rail (all lines) "St Paul Station"

).

The 2,800-seater Vaudeville and Lighttime Theater, which is held in the Neorenaissance Sil, was opened in 1921.

Houdini, Mae West and Bob Hope performed here, John Wayne, James Stewart and Gregory Peck attended film premieres, where the Big Bands of Duke Ellington and Cab Calloway played here.

The musical horror satire The Phantom in Paradise was shot in the Majestic Theater. It was the most magnificent theater in Dallas' Theater Row along Elm Street.

The others were all broken down in the 1970s to make way for skyscrapers, only the Majestic is listed as a historical monument and has remained intact.
5

Magnolia Hotel,

1315 Commerce Street / 108 S. Akard Street

(

Bus 205, 208, 210, 278, 722 "Main & Akard" or DART Light Rail (all lines) "Akard Station"

).

122 meters high, 29-story Beaux Arts and Neorenaissance building, built in 1921/22 as the headquarters of the Magnolia Petroleum Company, later of Mobil Oil.

After the oil company moved into a more modern building, the Magnolia Builing was renovated and has been a noble hotel since 1997.
6

Titche-Göttinger Building,

1900 Elm Street / 1901 Main Street

(

Bus 205, 206 "St Paul & Main" or 278, 722 "Main & St Paul"

).

Historical department store from 1929, designed by George Dahl in the Neorenaissance style.

The department store was closed in 1987, after which it was transformed and converted.

Today, it houses teaching rooms of various universities (Universities Center at Dallas).
Skyscrapers and modern buildings

Skyscrapers and modern buildings
7

Mercantile National Bank Building,

1800 Main Street

(

Bus 205, 278, 722 Main & Ervay

).

Built in 1943, 159 meters high skyscraper in classic modern style.

It was the tallest building in Dallas from its completion until 1954.
8

The Drever (

formerly First National Bank Tower and Elm Place

),

1401 Elm Street

(

Bus 206, 722 "Field & Elm" or DART Light Rail (all lines) "Akard Station"

).

The 52-story skyscraper was designed by architects George Dahl and Thomas E.

Stanley was designed and is part of the international style.

It was completed in 1965 and was the tallest building in Dallas, but replaced by the Renaissance Tower in 1974, it is now only 10th (since the 1980s). First National Bank has since been in the Bank of America, and most offices have been vacant since 2009/10.

The building was then extensively renovated and renovated and has been a luxury hotel and apartment complex since 2018.
9

Renaissance Tower,

1201 Elm Street

(

bus (numerous lines) "Elm & Field" or DART Light Rail (all lines) "Akard Station"

).

270 meters high office tower in the style of international modern with a distinctive glass façade.

From its completion in 1974, it was the tallest building in the city until it was replaced by Bank of America Plaza at number two.
10

Reunion Tower (

colloquial "The Ball"

),

300 Reunion Boulevard

(

DART Blue or Red Line or TRE or tram 620 "Union Station"

).

171 m high view and restaurant tower (with revolving restaurant).

It was designed by the Welton Becket Architecture Office.

One of the landmarks of Dallas.

Opened:

viewing platform So-Do 10.30-20.30, Fri-Sat 10.30-21.30;

Restaurant So-Do 17-22 hours, bar and lounge 1 hour longer.

Price:

Entry $17, seniors $14, children (4-12 years) $8, day and night ticket for two visits on the same day $22/19/13.
11

Dallas City Hall,

1500 Marilla Street

(

bus 026 "Marilla & Akard"

).

The modern town hall was inaugurated in 1978.

It was designed by architects I.

M. Pei and Theodore Musho.

It's shaped like a inverted pyramid and it's seven stories tall.

There are sculptures by Henry Moore on the front.
12

Bank of America Plaza,

901 Main Street

(

bus 024, 206, 278 "Main & Griffin" or numerous lines "Elm & Lamar" or DART Light Rail (all lines) "West End Station"

).

Built in 1985, 72-story skyscraper (281 meters high) - the highest building in Dallas.

At night, the layout of the building is highlighted by green argon lighting.
museums
Most of the museums, exhibitions and cultural institutions are concentrated in the so-called Arts District in the north-east of the city center.
13

Dallas Museum of Art (

DMA

),

1717 North Harwood Street

(

Bus 205 "Harwood & Ross" or tramway M-Line "St Paul & Woodall Rogers"

).

Large art museum.

The collection ranges from ancient Mediterranean art, South Asian and African and pre-Colombian art from the American continent, European art from baroque to modern and North American art from the colonial period to the 20th century, to contemporary art and design and decorative arts from different eras and cultures.

Highlights include some works by the French impressionists (Cézanne, Manet, Monet, etc. ) from the Wendy and Emery Reves Collection.

Opened:

Di-Mi and Fri-So 11-17, 11-21, closed on Mondays.

Price:

Admission free.
14

Crow Collection of Asian Art,

2010 Flora Street

(

Bus 205 "Harwood & Ross" or tram M-Line "Olive & Flora"

).

The collection of Asian art donated by the couple Trammell and Margaret Crow with more than 4000 exhibits from China, Japan, India and Southeast Asia.

Opened:

Tue 10-21 am, Saturday 10-18 pm, So 12-18 am, Mondays closed.

Price:

Admission free.
15

Nasher Sculpture Center,

2001 Flora Street

(

opposite Dallas Museum of Arts and Crow Collection

).

Collection of modern and contemporary sculptures donated by Patsy and Raymond Nasher, including works by Matisse, Miró, Picasso and Rodin.

The exhibition is partly indoors, partly in the adjacent garden.

Opened:

Di-So 11am-5pm, closed on Mondays.

Price:

Entry $10, seniors $7, students $5, children under 12 free, every first Saturday of the month free.
16

Dallas Contemporary,

161 Glass Street

(

Bus 063 "Market Center & Irving"

).

Museum of Contemporary Art.

Opened:

Di-Sa 11-18, So 12-17.

Price:

Admission free.
streets and squares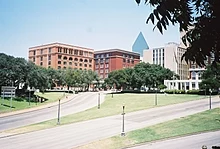 17

Dealey Plaza (

Bus 161, 278 "Main & Record" or DART Light Rail (all lines) "West End Station"

).

A triangular, green square at the western end of the city center.

Here was John F on November 22, 1963.

Kennedy shot.
park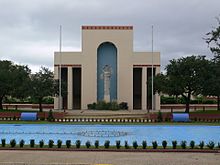 18

Fair Park (

DART Light Rail (all lines) "Fair Park Station"

).

Built in 1906, the 112 hectares of public park.

The Texas Centennial Exposition was held in 1936, and numerous exhibition halls designed by architect George Dahl in the Art Deco style were built here.

It is therefore one of the most important art-deco ensembles in Texas.

It is registered as the National Historic Landmark of the USA.

The Hall of State is the landmark of the complex, as well as museums of natural and African-American art, an artificial lake, an aquarium, a botanical garden, a theater, an outdoor stage and a football stadium.
The 900 meter wide strip on both sides of Trinity River is left as flood and green space (Dallas Floodway). The section on Sylvan Avenue Bridge is designed as

19

Trammell Crow Park(Bus 063, 405 "Irving & Wycliff"). There is a small lake, football fields, cow sculptures, a boat dock and especially walking paths with spectacular views of the skyline of Dallas.
activities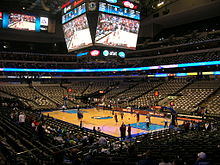 a basketball game of the Dallas Mavericks, an ice hockey game of the Dallas Stars, a football match of the Dallas Cowboys or a baseball game of the Texas Rangers

1

American Airlines Center,

2500 Victory Avenue

(

DART Green or Orange Line or TRE "Victory Station" or Bus 49 "Houston & Payne"

).

The multi-arena has 21,000 seats and is used for basketball and ice hockey matches, as well as concerts.

2

AT&T Stadium,

1 AT&T Way, Arlington, TX 76011

(

in a suburb, about 30 km west of Dallas city center

).

Located between Dallas and Fort Worth, the 80,000-seat football stadium has been the home of the Dallas Cowboys since 2009.

3

Globe Life Park in Arlington,

1000 Ballpark Way, Arlington, TX 76011

(

29 km west of downtown Dallton as

).

The Rangers Baseball Stadium with 48,000 seats is also halfway between Dallas and Fort Worth.

4

Morton H. Meyerson Symphony Center,

2301 Flora Street

(

Bus 210, 722 "Pearl & Flora" or tram M-Line "Olive & Flora"

).

The Municipal Concert Hall is played by the Dallas Symphony Orchestra, Dallas Symphony Chorus and Dallas Wind Symphony.

The building was built by I.M.

Pei designed and inaugurated in 1989.

According to experts, the concert hall has excellent acoustics.

AT&T Performing Arts Center - Inaugurated in 2009, an urban cultural center in the Arts District with a range of possibilities for performing various forms of art: Opera and music theater, classical and experimental theater, ballet and other dance forms (program overview for all associated stages and companies see website)

5

Dallas Opera (

Margot and Bill Winspear Opera House

),

2403 Flora Street

.

Founded in 1957, the opera company has been operating in the modern opera house since 2009, which is also used by the Texas Ballet Theater.

6

Annette Strauss Square (

just behind Opera House

).

outdoor stage with 5000 spectators.

7

Dee and Charles Wyly Theater,

2403 Flora Street

(

bus 024, 031 "Ross & Leonard"

).

The Dallas Theater Center, Dallas Black Dance Theater and Anita N.

Martinez Ballet Folklorico .

8

Dallas City Performance Hall,

2520 Flora Street

(

bus 024, 031 "Ross & Routh"

).

Municipal Hall with a different program (for example modern dance theater, choir concerts, etc.)
purchase
A large outlet shopping mall is located in Allen in the north of Dallas.
kitchen
nightlife
accommodation
learning
work
safety
health
Practical information
excursions